I lost a drive in my iSCSI array, so I snapped a few pics as I replaced the drive.  If you've never seen what using an array looks like, read on…
(It's the black 3U on top, the HP gizmo is a tape library…)
The Equallogic PS5000E (recently Equallogic was bough by Dell) is a 3U iSCSI array.  Mine has 2 controllers with 2GB of battery backed cache memory and 8 1TB SATA drives, expandable with 8 more (total of 16 1TB drives).  With a hot spare and RAID overhead, 8TB of raw capacity translates into a little more than 5 TB usable of RAID-5.  Each controller  has 3 Gig NIC's, and does load balancing across the NIC's within the array (easy!).  This is "just" an iSCSI array, it doesn't do "filer' functions like NFS or CIFS.
Like most arrays, these come with a web based GUI.  Mine looks like this.
I logged in the other day, and noticed these errors in the event log.  (Look at the gray, and read from the bottom up.)  Drive 4 had failed.  Good thing I had a dedicated hot spare assigned (drive 7), the array automatically off-lined the failed drive, and used the hot spare.  No one noticed anything.  I tried reseating the failed drive, but that didn't help.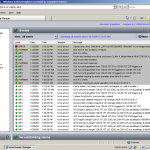 Replacing the drive is easy.  Dell overnights you the replacement.  It's nicely packed, complete with instructions and return label.
This is just a regular old SATA drive, in a fancy Equallogic drive sled.  The sled is a pretty fancy one, with an extra circuit board at the rear of the drive.  Dell wants $2500 each for these drives (WTF!?!)  I've seen 250 GB drives in these sleds on eBay for less than $50.  You could buy one of those, and then put the correct 1TB drive in it for a couple of hundred dollars.  Of course, that would void your warranty 🙂
Take the old drive out.  You don't have to tell the array you're going to do this with the GUI first, just yank it out, the array figures it out
Stick the replacement in.  That's all there is to it.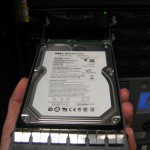 Once the new drive was inserted, the array automatically started using it, and declared it to be the new hot spare.  These events were now displayed: