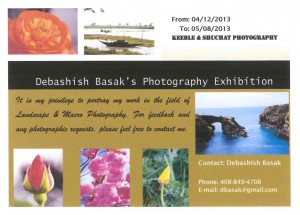 My friend and co-worker Debu (Debashish Basak) is a amateur photographer.  He has an exhibit of his works at Keeble & Shuchat Photography in Palo Alto…
The exhibition is on display now through the 8th of May.  The reception is Sat, April 20, 2013
1:00 PM – 4:00 PM.   If you have a moment, drop by.
He has perhaps 40? photos on display, both landscapes and macro photography.  Forgive my crappy cell phone pictures of his work.  Perhaps I'll be able to post some of the actual work here.