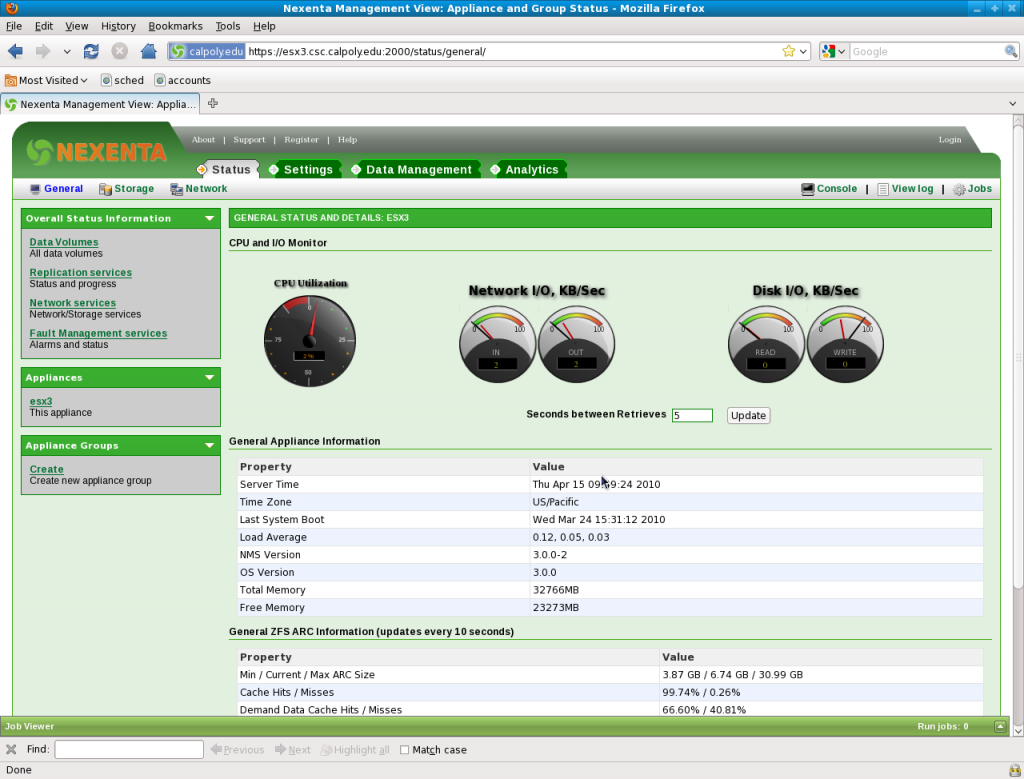 I've been using Openfiler for a long time now, but I'm always open to alternatives.  Recently I stumbled across NexentaStor, which is a software product you can load on your servers to make them into filers, like Openfiler.  NexentaStor is available both in an Community Edition, as well as a relatively inexpensive Enterprise Edition, which comes with all the bells and whistles like built in block level replication.
NexentaStor is "Linux-like", but is based on an OpenSolaris kernel, not Linux.  One big advantage is of this is that OpenSolaris (and hence, NexentaStor) runs the ZFS file system.  ZFS is the next generation file system, and offers all sorts of file system goodness, chief of which it's meant to run on lots of cheap disks.  No more expensive RAID arrays required for reliability.
The free NexentaStor 3.0 Community Edition has been working fine for me in testing as a backend for XenServer hypervisors.  It has been up and stable for a couple weeks with multiple vm's running on it.
The Enterprise Edition offers everything the Community Edition supports *PLUS* plugins available for replication, virtualization, and more.  You can easily build an "enterprise class" filer with all of the same features as the "big boys" have, for much, much less.
The NexentaStor website says:
NexentaStor 3.x Community ISO CD images can be installed on "bare-metal" x86/64 hardware and VM installed images are available below as well. The hardware compatibility lists for OpenSolaris 10.03 indicate what is supported. The NexentaStor installer also verifies hardware compatibility before installation commences. For more information on hardware compatibility please visit NexentaStor FAQ.

This is a major NexentaStor release, with many new features, improved hardware support, and many bug fixes over the older Developer Edition including:

In-line deduplication for primary storage and backup
Free for up to 12 TB of used storage with no limits on the total size of attached storage
Supports easy upgrade to future Community Edition releases and to Enterprise Edition licenses
Support for user and group quotas
The ability to automatically expand pools

Commercial support and optional modules are not available for the Community Edition. Please click on 'Get support' or 'Get enterprise' above to learn more about the support options and additional capabilities of NexentaStor Enterprise Edition.

Recommended system requirements:

64 bit processor (32 bit not recommended for production)
768MB RAM minimum for evaluation, 2GB okay, 4GB ideal
2 identical relatively small disks for high-availability system folder (for operating system and the rest appliance's software)