I recently had the pleasure of attending VMware View: Desktop Fast Track [V5.1] online.  We bought this directly from VMware, which gives you the (BONUS!) free voucher for the VMware Certified Professional 5 – Desktop examination.  The Fast Track class is actually a 5 day version of 2 standard classes (boot camp style) – it combines View 5.1 Install, Manage, Configure (4 days) with View 5.1 Design (3 days) into one fun filled 5 day week.  VMware says:
This fast-paced, extended-hours training course includes the content of the following courses:
•  VMware View: Install, Configure, Manage
•  VMware View: Design Best Practices
This hands-on training course builds your skills in the VMware® View™ suite: VMware® View Manager™, VMware® View Composer™, and VMware® ThinApp®. The course provides applications-oriented administrators with the knowledge and skills to virtualize Windows applications with ThinApp and to choose the best deployment and updating processes for their environment. The course also presents a methodology for analyzing and designing a View solution for the VMware® vSphere® infrastructure.
VMware used a training vendor, vSandbox, to provide the instructor for this class.  Jesse Hauf, from vSandbox, was my instructor and he did a great job.  He has a lot of experience doing View deployments in real life, so he was able to bring the material to life with real world examples.
The class was a typical online experience.  VMware uses WebEx to deliver the classroom.  You basically go to VMware, go to Training, log in, and then go to MyEnrollments and click on the class link, which starts the class WebEx.
The course is basically audio, with the instructor talking and showing slides and whiteboards.  Students can ask questions by audio (phone) or in chat.  Instructors keep students awake with interaction, asking questions, asking them to "raise" their hands.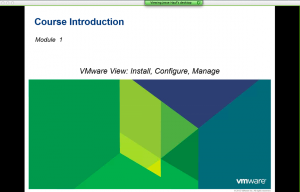 Books for VMware online classes are protected with DRM. VMware is currently using Locklizard PDF reader, which is a bit annoying at times, but all in all works ok.  Jesse said that VMware may change to another viewer soon.
Since this class is "boot camp style" and is covering seven 8 hour days in five 10 hour days, there's a lot of material to cover, and you have to stick with the class and just nug it out.  Breaks and lunches are short.   You often will have to complete labs or do homework after the 10 hour day completes.  Don't expect you could do this class at your desk at work, you don't have time to deal with distractions, answer email or the phone.  If you do have to do this at work, find someplace quiet to hide during class sessions.  As usual, the VMware course outines are spot on, so what they say they are going to cover is what they cover, topic for topic.  (Thankfully, that also lines up pretty well with what the certification examinations cover as well…)
There's a lot of hands on labs, using a full vSphere infrastructure accessed by RDP online, so you don't just talk about it, you do it, especially in the Install, Configure, Manage portion of the class.
Jesse is a VCP, and VCP-DT (and has a lot of other certifications) so he had some very handy pointers for those of us working on our certifications.  He is one of the authors for Proven Exams (see alternate writeup here), which is working with VMware to publish actual VMware approved practice exams for VCP and VCP-DT.  These exams are in closed beta right now, but any day now will start offering VCP, and later VCP-DT practice exams approved by VMware.  (VMware practice tests basically don't exist.  VMware has a not-so-great mock exam on their web site.  Some books come with a CD of questions, but I have yet to be able to find good VCP practice exams that are anything like the real questions.)
Jesse particularly likes the book VMware View 5 Desktop Virtualization Solutions to study for VCP-DT.
All in all, I still prefer to attend class in person, but this is the second VMware online class I have taken, and it's a good experience.  Just expect to be *VERY* busy in these classes, especially in a Fast Track, you won't have time to multitask at work.