I passed the new style (single exam) NS0-154  NetApp Certified Data Management Administrator (NCDA) test today.  I had the good fortune to take some instructor led courses for this from Fastlane – Data ONTAP 8.0 7-Mode Administration (DOT87M) and Accelerated NCDA Boot Camp Data ONTAP 8.0 7-Mode (ANCDABC87).  They were good preparation.  The exam was 75 questions, 90 minutes.  I passed it with a 99% (missed one) and it took me maybe 20 minutes.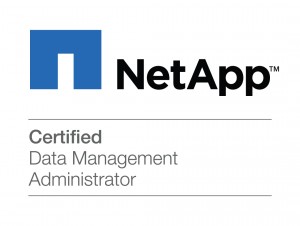 These NetApp tests are "low volume" – that means that there's not enough people taking them to justify publishers to write prep books, or test prep publishers to make practice exams.  Therefore there is little official test preparation material available short of instructor led training.  I was fortunate to get ILT, but each of my one week classes cost something like $5000, pretty pricey for those on a budget.
NetApp has a pretty good downloadable study guide named NCDA Bootcamp Training Review (free NetApp on the Web (NOW) account required).  They also have a semi-cheesy practice test for NS0-154 that's like 20 questions, and always the *SAME* 20 questions.  It's better than nothing.
An important note is that NetApp recently changed the way they tested NCDA.  There originally were 2 tests – NS0-153 "Storage Networking Professional" and NS0-163 "Data Protection Solutions Professional".  You had to take both exams to get NCDA.  These exams covered the (old, deprecated) Data ONTAP 7.X.
When Data ONTAP 8.0 7-Mode came out, NetApp decided to consolidate both of the topics on the former exams into one new exam, the NS0-154 "Data ONTAP 8.0 7-Mode Administrator".  So although the new single exam is for 8.0, and has some new features on it, in general, they  just consolidated the questions from NS0-153 and NS0-163.  So any test prep materials you can find for those 2 exams will be helpful.  NetApp also has semi-cheesy 20 question practice exams for NS0-153 and NS0-163.
So what did I do?
I went to instructor led training.
I studied my course books and the NCDA Bootcamp Training Review.
I did the semi-cheesy NetApp practice exams for NS0-153, NS0-163, and NS0-154 until I was blue in the face.
I did hands on practice with ONTAP 8 simulators (you have to have an active NOW account to download these).
I googled around online for other test help, but didn't find much.
Good luck!  Off to study for NetApp Certified SAN Implementation Engineer and NetApp Certified Backup and Recovery Implementation Engineer…